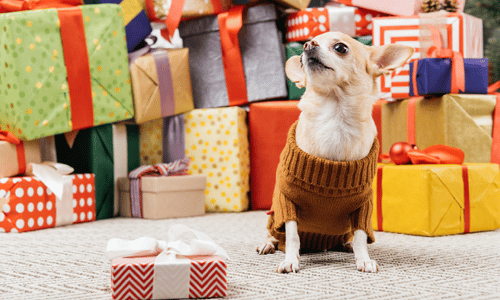 The holiday season is a busy time with shopping, gatherings, cooking, and spending time with loved ones. We get so caught up in our to do list, it can be hard to remember to slow down and be present in our daily lives. That's where the furry members of our family can help us. Our pets are always there to remind us that making memories is the most important part of the season. Whether you have established traditions or looking to begin a new one, involving your pets brings more joy and laughter to the holidays. Here are a few ways to create holiday traditions that include your pets.
Choosing a Christmas Tree
The smell of fir and pine trees is synonymous with Christmas. Many families share the tradition of going to a Christmas tree farm to choose the perfect tree every year. With their superior nose, bringing your pup along can help make the decision of which tree is a match by following your dog's lead. Make sure before you leave to check the farm policies to ensure that pets are welcome and if they need to be on a leash. A pet-friendly tree farm in the Kansas City area is Fort Osage Farm in Independence, MO.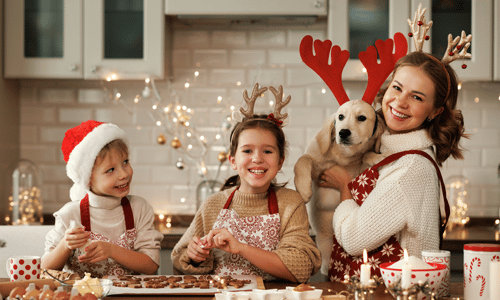 Pet-Friendly Holiday Baking
Baking (and decorating) christmas cookies is a time-honored tradition, but who said that only humans can join in on the fun? There are a few cookie recipes for your dogs to enjoy as well, some of which include favorite ingredients like peanut butter, dog-friendly icing, cranberries and pumpkin. You can even host a dog cookie exchange or box them up as a fun present for another dog parent in your life. Another idea for a holiday tradition with dog cookies is to leave a few out for Santa to feed his own pets on Christmas Eve.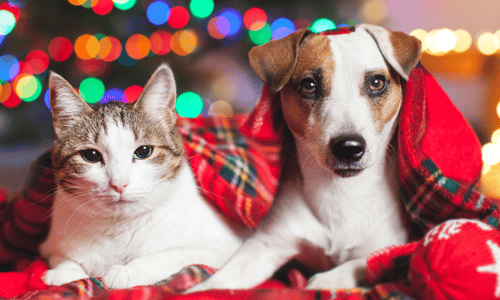 Does your family take pictures for Christmas and send along Christmas Cards? What about taking pictures with Santa? Some fun pictures of your pets on Santa's lap can be a fun, quirky tradition and is sure to raise some eyebrows and get a few laughs from your pet's interactions with St. Nick. In your family pictures, do you coordinate outfits or sweaters? Include your pup and get them a matching holiday sweater so they can look festive with the family.
All types of advent calendars are growing in popularity, and this has also started to involve the furry members of our family with treats, toys, and other goodies. Build anticipation for the big day by buying your pet (and yourself) an advent calendar with surprises throughout the month. You can find these advent calendars at many major retailers such as Target, Costco, or Amazon.
Do you give your pet presents or a stocking? Do you wait until Christmas Eve or Day while the rest of the family are opening their own presents? Often, we buy them their present and give it to them right away. Either option is valid, what do you do? Let us know what traditions and presents you have planned for your dogs.
Our time with our pets slips away far too fast. It's important for us to be intentional about spending time and making memories with our furry members of the family during the hectic pace of the holiday season. Have any other holiday traditions or memories with your pets? Comment and let us know on social media.