"Dogs are my family. I don't have a big family, and I like to think that this may have been divinely designed so I could have lots of pets throughout my lifetime to make up for it. They serve as constant companionship and provide reasons to smile on a daily basis. Knowing that they don't live as long as we do is hard, but I have learned to love and enjoy them while I can. They are chapters in the book of my life, and I am so grateful for each one and everything that they have taught me."
The above excerpt was taken from a blog post written by me back in 2019 and I agree with every word still to this day, but . . . it doesn't take away how hard it can be when a pet dies. As a children's book author that published a book helping kids cope with the death of a pet, I know a lot about the topic of pet loss. I've met with experts on this topic, I know the resources and organizations that are available to help families cope with pet loss, and, yes, I may be partial, but I know a great kid's book that helps kids with this topic. I also know all the comforting quotes that are out there to help brighten just a moment in someone's day when they are dealing with the death of a pet. But, it doesn't make it any less difficult.
Yesterday, I had to say goodbye to Jack, my teddy bear of a dog with his blond curls and huge dolphin eyes. He was a quirky one, as all my dogs are in their own way. Jack hated having his picture taken. You would have thought he was in the witness protection program with the way he actively avoided getting his picture taken. He also had a gift of laying right in the middle of the floor blocking access to whatever you were needing to get to at any given moment. It was like he planned it. We have some tight spaces in our house and having to walk over him was a delicate dance that we had become experts at. He'd also fall asleep with his tongue out quite a bit, which was so endearing.
Jack was the last of the three dogs that I had gotten in my late twenties/early thirties. They were all rescues and couldn't have been more different. They were a rag tag crew and were my loyal companions. They were my family. They provided me strength and comfort when I went through life's challenges and they made my life better just by being in it. And I know that I made their lives better too. They inspired me to write the book, Sassie's New Home, and I am forever grateful to them.
But, as I indicated previously, I know they are chapters in the book of my life. I knew they wouldn't be here forever. And I picture them in a heaven with dog treats dangling on every tree and endless fields to run in and explore. And I picture them bringing comfort and love to the people there, just like they have brought comfort to me. But I miss them. I miss them very much. And it is heartbreaking to lose them no matter how prepared you think you are or how knowledgeable you are about pet loss.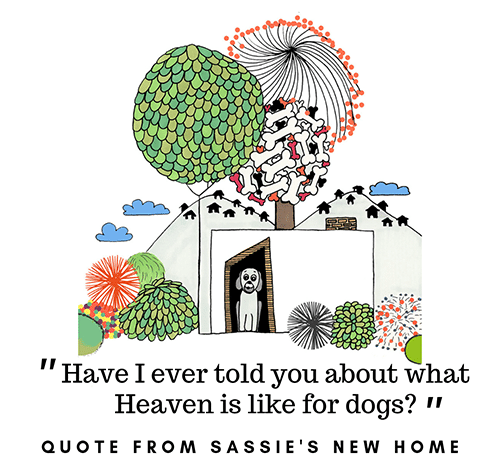 Jack, and all my dogs that have passed away over the years will forever have a place in my heart.
And my wish is that you hold your pets that are still here just a little bit closer today in honor of Jack and notice when they do that thing that is unique to them that will forever remind you of them. And take a moment to smile at that. Take a moment to cherish them today and every day while they are here.